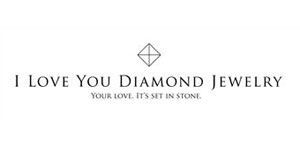 I Love You Diamond Stud Earrings
Diamonds earrings are the perfect gift for any occasion, whether it's your daughter's graduation, your anniversary or your first Christmas together. This sentimental gift marks the moment in time and can be upgraded at any time down the road. You will receive full trade-in value on each pair when you bring them back for a larger pair.
The I Love You Diamond Earring Collection features expert hand-selected fine Russian make diamonds which are noticeably whiter and brighter and are also laser-engraved for security.
This collection of contemporary sterling silver jewelry has a style fitting for every woman, whether she likes big and chunky or small and dainty. And the price is affordable for any occasion or "just because".
Writes Frederic – As I design a piece of jewelry, I envision a woman wearing it. Her face, silhouette, and personality reflect the statement I am trying to achieve. My goal is to capture the fundamental qualities of a woman's features, and complement them with refined embellishments.
Stacked Bracelets are a hot trend for summer, especially if colors and styles are matched. With over 1,500 easily adjustable bracelets and charms with symbols from spiritual to whimsical, from romantic to sentimental, along with exciting new licensed products, Angelica Bracelets are perfect for stacking. Endless ways to let a woman show how she feels, what she believes in and who she is. In addition, $.25 of each bracelet is donated to Generation Rescue, a national organization committed to improving the quality of life for those affected with autism.