Meet Mark Schneider: The Man Behind the Be...
Meet Mark Schneider: The Man Behind the Beautiful Diamond Engagement Rings
Posted on Wednesday, February 7th, 2018 at 1:47 pm by Courtney
Google Mark Schneider's name, and you'll soon discover one thing: there are a lot of Mark Schneiders out there. There's a researcher, a psychiatrist, an acting coach, and an architecture professor. But there's only one Mark Schneider responsible for the breathtakingly beautiful, award-winning diamond engagement rings like these.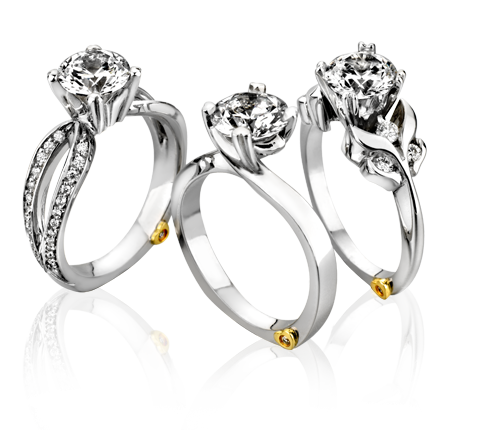 Mark Schneider: Born to Be a Jeweler
Mark Schneider's family has been in the jewelry business for generations. You could say that Schneider's interest in the industry started very early – he started collecting gemstones when he was still in grade school!
It was in the early 1980's that Schneider's designs started to capture people's attention. In 1991, he won his first design award. During the following years, Schneider's bold design aesthetic and masterful use of colored stones resulted in his creation of a piece that is now permanently on display at the Smithsonian Institution – a tremendous honor! And now, for a little more than 16 years, Mark Schneider has focused his attention on creating exquisitely beautiful diamond engagement rings.
Mark Schneider Diamond Engagement Rings
Every engagement ring we sell is special. There's no piece of jewelry quite as symbolically important as the ring you choose to indicate that you've pledged to spend your life with someone.
Mark Schneider diamond engagement rings are exceptionally wonderful; there's a reason they're a favorite of the brides-to-be on TheKnot.com! Eye-catching designs featuring brilliant diamonds in lovely, elegant settings – many of which feature additional diamonds either in the setting or on the band – these are engagement rings made to make her heart melt. Every time we show a Mark Schneider ring, the bride-to-be takes a closer look. These rings are irresistible!
They're also hard to come by. If you want to find a Mark Schneider diamond engagement ring in Wisconsin, plan a trip to Green Bay. It's there you'll find us: Bay Area Diamond, the exclusive home for Mark Schneider engagement rings in Wisconsin. Totally worth a trip from anywhere – after all, you're choosing the ring you'll be wearing for the rest of your life!
Also good to know: Bay Area Diamond's True Love Guarantee means that if, for whatever reason, the diamond you choose turns out to not be the diamond she wants, you can easily exchange it. Find out more details here. Enjoy the peace of mind that the True Love Guarantee provides!