Giving Back with Bay Area Diamond
Giving Back with Bay Area Diamond
Posted on Monday, November 11th, 2013 at 1:31 pm by Courtney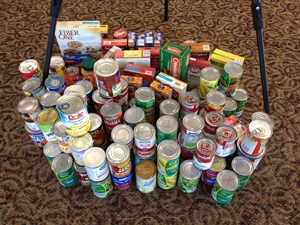 We are truly blessed people. Our lives are full of beauty. There's the beauty that surrounds us every day in the store, where diamonds sparkle and custom designed fine jewelry shines. There's the unmatchable beauty of our family & the appreciation we have for our customers. And we're very privileged to see a special sort of beauty every year, as the Green Bay community comes together to take care of our own.
Bay Area Diamond's November Food Drive
Throughout the month of November, we'll be collecting your donations of non-perishable food items. This food will be donated to The Giving Tree food pantry in January, a time when food pantry shelves are generally at their emptiest. Your donation will make a real difference in the lives of good, hard-working people in our community.
As a way to say thank you, we'll give anyone who brings in 4 food items into our food drive 15% off their next purchase. Doing good is its own reward, but a little extra savings right before the holidays is pretty nice too!
Hunger is a real threat to the health & happiness of Green Bay.
Here's the thing about hunger: you can't tell if someone is hungry just by looking at them. As you go through your day, you have no way of knowing what's going on in the private lives of your friends, colleagues, co-workers, or neighbors. People are very proud, and they may not want to tell you that they didn't actually have dinner last night because they wanted to make sure their kids had enough to eat. The colleague who waves away the fact she has no lunch as 'part of a crazy new diet' may in fact have no lunch to eat.
Times are hard out there right now. We all know that unemployment is a real problem; we've all seen the headlines about budget cuts to nutrition assistance programs families depend on. Winter in Wisconsin is really hard. There are people out there – some of them elderly, some of them disabled – who are forced to make choices between heating their homes and having enough to eat.
We match every donation that you make, can for can, box for box.
We don't want anyone in Green Bay to go hungry – ever! At the end of the month, we tally up exactly how much food has been donated by our fantastic customers and friends, and we match that donation in kind. That means if we've collected 1,500 cans and 2,300 boxes of non-perishable food for The Giving Tree, Jill and I will go down to the grocery store and get 1,500 cans and 2,300 boxes of non-perishable food to add to the donation. Your kindness goes twice as far when you give at Bay Area Diamond.