Chapter 1 of Far East Gem Tour: The Heart ...
Chapter 1 of Far East Gem Tour: The Heart of Thailand
Posted on Tuesday, May 26th, 2015 at 10:40 am by Courtney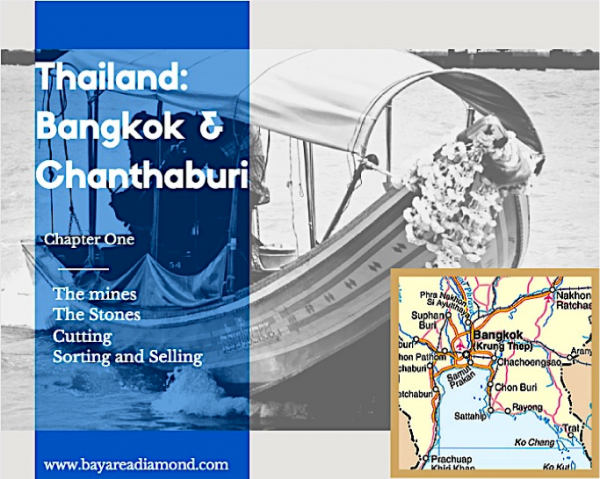 Exploring the cavernous mines and grassy green hills of Chanthaburi, Brian and I climbed the Thai countryside and surveyed the land. From behind banana trees and bends of Buddha-bellied statues, the contrast between residents was stark – miners who have sold gems successfully and those awaiting their fortune. But it was the smaller discoveries that had our minds churning with enlightenment, and you'll soon agree.
The Background of the Towns: Bangkok and Chanthaburi
Chanthaburi and Bangkok (about 150 miles apart) are the main hubs of gemstone trading, mining, and treating. Thailand alone is one of the world's largest gemstone cutting and trading centers in the world. Larger offices in the industry are sprawled out in Bangkok, and the traditional trading markets are tucked away in Chanthaburi.
Thailand was our favorite stop because, besides being visually compelling, it was the friendliest city, despite what little some people had to their name. Also, a pivotal time in our journey, it was where our newfound appreciation for gemstones really began – where the journey began.
From Mine-y to Shiny: How Rock Becomes a Gem
Local farmers mine the gemstones with large sifters and hire workers to excavate stones from the dirt. The stones are much heavier than dirt, so, quite easily, we could pick apart and sift with our bare hands. While visiting, we found a few rubies and sapphires, which was incredible to see.
Amongst the quarries stood workers who sold samples of rough stones from the back of their pickup truck. Rough stone is the first state of a gemstone's life cycle that looks akin to regular rock. The man we approached popped one in his mouth to clean and polish it with his saliva.
Precious Facts About the Stones We Found
Under the blazing sun, we held up the stones to gauge their natural color – their true color.
The two main stones mined in the area are rubies and sapphires. Not many people know certain facts that help onlookers appreciate their quality:
Sapphires and rubies are found about 5 feet in the ground.
Rubies and sapphires are chemically the same stones.
The range of color has to do with trace elements and heat treatment.
Trace elements also reveal what mine the stone was excavated from.
If a ruby or sapphire is untreated and has perfect color and clarity, it's extremely rare and valuable.
The entirety of stone treatment, including heat, is a well-kept secret and tradition in Thailand.
Exploring the Cutting Factory
While several cutting factories exist worldwide, we were fortunate enough to pay a visit to the 3-floored one located in Bangkok.
After authentic gemstones are quarried from the mines, they're sent to the cutting factory to be treated, polished, and shaped before being sold to vendors around the world and at the Chanthaburi Market. This is the final process until the stone becomes a smooth polished gem.
Brian had the same shirt on as the gem cutters – a priceless unplanned moment we got a kick out of.
The gemstones are stuck to a drop of wax, and then, in short spurts, are touched to the cutting wheel – a very meticulous and in-depth process, required in order to create perfect facets. The ones we witnessed were being prepared to be princess-cut sapphires.
The workers in the factory sort each miniscule particle by millimeters; we wondered how their eyes didn't go buggy, even with magnifying goggles. Most of the stones are preformed specifically to vendors' and designers' requests. But if you wish to visit, you can create a custom creation with an array of different stones, whether it be a pair of earrings or multicolored necklace.
The Final Touch
The owner of the cutting factory also owns where stones are finished and sorted. A whole room existed just for large untreated stones and pendants, including a rare Pigeon's Blood ruby (named after its natural hue), which we were able to see and hold – the largest natural ruby we had ever seen. The gems in this room are worth a lot, in some cases millions. There were loose rubies and sapphires from 1 up to 4 carats. Every stone has the most magnificent cut and clarity - no dark spots or fractures or anything of that kind - these are the most gorgeous stones we have seen.
Before You Travel to China With Us
By the end of Thailand, we were already amazed to see how many hands touch jewelry before wearing. The meticulous effort that goes into a final piece puts the value of a gemstone into perspective.
In China we will visit a location where jewelry is set and designed. It is another amazing experience on our journey. Please join us for Chapter 2!
For more about our fantastic Far East Expedition, follow us on Twitter, like us on Facebook, and view additional photos, as well as our mapped out trail, on Pinterest.