Antwerp Ahoy! We're Bringing Back Europe...
Antwerp Ahoy! We're Bringing Back Europe's Best Diamonds For You
Posted on Tuesday, April 1st, 2014 at 3:39 pm by Courtney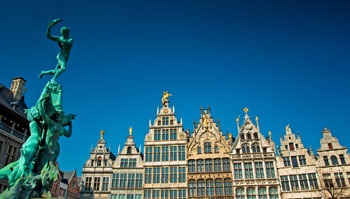 I have to admit that both Jill and I have a little spring in our step lately. There's excitement in the air. We're grinning more than usual. The reason why? It's time for Brian's trip to Antwerp!
The second largest city in Belgium has a very long history, stretching back before the 15th century. Legend has it that Antwerp was named for a giant who guarded the nearby Scheldt River. If you paid the toll he was asking, the giant had no problem with you. Didn't have any money? Well, then, you had a problem. The giant would cut off your hand and throw it in the river. Luckily for all involved, the hero Brabo took care of the giant, and everyone now gets to keep their hands.
Which is great news if you want to wear a diamond ring! Today, Antwerp is all about the diamonds. The Antwerp World Diamond Center receives and sells millions of carats of the world's finest diamonds every year. These stones are only accepted from nations that adhere to the Kimberly Process standards, which means the diamonds can't be used to fund conflicts or civil wars. The quality of these stones are exceptional, and every year, it's a huge thrill for Jill and myself to see the dazzling diamonds. To be surrounded by such a mass of diamonds in all shapes, sizes, and colors is a life-changing experience – make sure to watch our Facebook to see the pictures!
Of course, we don't just go to Antwerp to see the diamonds. We're there to buy them, and bring them back home to our Green Bay jewelry store. While we buy a certain amount for our own inventory and the custom engagement rings we'll produce during the coming year, the very best part of our trip is picking up diamonds for our customers here who already have plans for them!
If you know that you're going to pop the question and need an exceptional Antwerp diamond, we'll bring one back to Green Bay for you. Need two perfectly matched Antwerp diamonds for a spectacular pair of earrings? We can do that too. Want a wee diamond to shine in a custom pendant? No problem! There's no challenge too big – and no stone is too small! – for us to find. Come in to Bay Area Diamond and let us know what you're looking for, and we will find it for you. There's still time, but not much! Our plane is leaving soon!