Aquamarine Stone Gift Ideas at Bay Area Di...
Aquamarine Stone Gift Ideas at Bay Area Diamond
Posted on Wednesday, March 14th, 2018 at 1:58 am by Will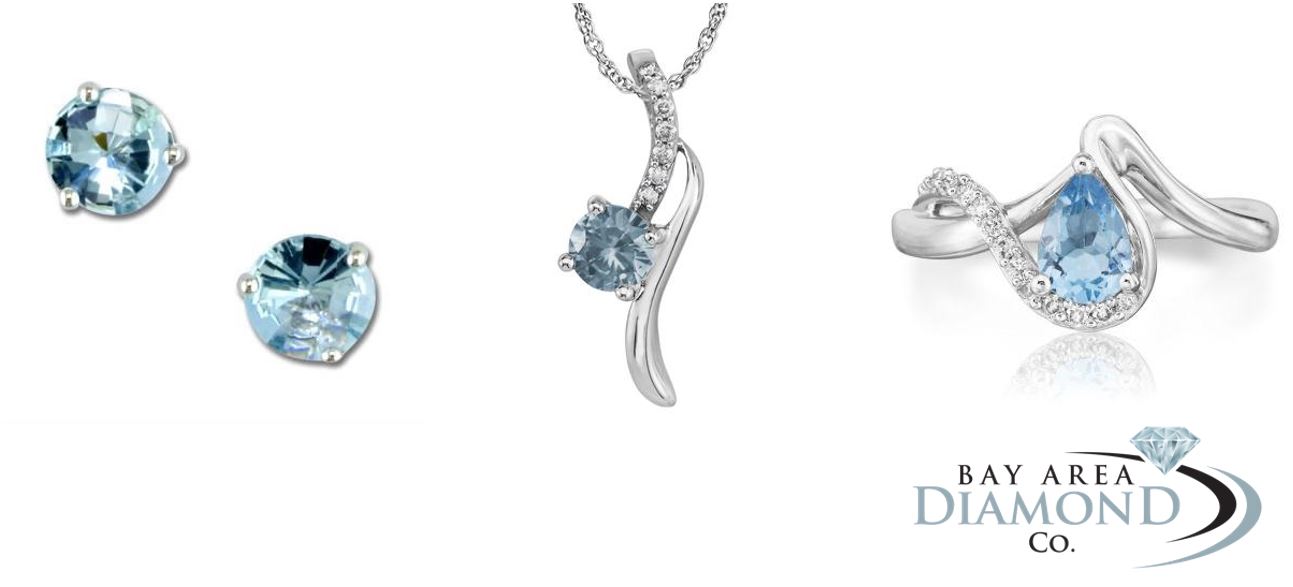 Diamonds may be a girl's best friend, but if you're looking for something with more sparkle, shimmer, and shine, aquamarine is a stone worth considering. Whether it's a gift for your wife, mother, sister, or another lucky woman in your life, the subtle color and appeal of aquamarine jewelry will wow her.
Here are several great gifts to shop today at Bay Area Diamond.
14-Karat White Gold Martini Stud Aquamarine Earrings
The simplicity of these colored stone earrings are what make them such a must-have. Made of attractive 14-karat white gold in a martini stud style, each earring is inlaid with a genuine round checkerboard faceted aquamarine stone that is six millimeters and 1.50 twt. These earrings are definitely a statement-maker!
White Gold Angular Drop Pendant
The artistic and sloping design of this angular drop pendant will make it a favorite in your special woman's jewelry collection. The pendant is also coated in 14-karat white gold and features seven small round diamonds (each 0.10 twt) as well as a single genuine round aquamarine stone that's 0.70 karats. Can you say wow?
Contemporary Fashion Ring with Pear-Shaped Aquamarine Stone
Our last aquamarine pick is this gorgeous contemporary fashion ring, also made of 14-karat white gold. The gentle looping base has a curved portion encrusted with 12 miniature round diamonds that are each 0.08 twt. In the center is a stunning pear-shaped aquamarine. It's a somewhat smaller stone than the pendant at 0.59 karats, but it's a beauty nonetheless.
About Bay Area Diamond
Instead of spending time searching for "jewelry stores near me," just head to Bay Area Diamond in Green Bay. This jewelry store carries aquamarine earrings, necklaces, bracelets, and other fine gifts for the woman in your life.
To contact Bay Area Diamond today, please call 920-494-0002 or stop by 225 South Military Avenue.